Archive
 <![if !vml]>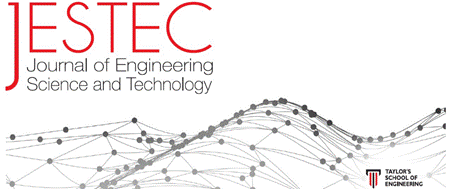 <![endif]> 
Volume 16, Issue 6, December 2021
Pages 4369 - 5109
Optimization of cutting parameters of martensitic stainless steel grades AISI 410 and AISI 420 during CNC dry milling
     G. Pramod , D. P. Selvaraj
     4369 - 4382
A comparative analysis study of hole flanging by incremental sheet forming process of AA1060 and DC01 sheet metals
     M. T. Mezher, S. M. Khazaal, N. S. M. Namer, R. A. Shakir
     4383 - 4403
Design and simulation of smart wireless devices using SCMA technology
     A. Z. Yonis
     4404 - 4413
A bibliometric analysis of chemical engineering research using vosviewer and its correlation with Covid-19 pandemic condition
     A. B. D. Nandiyanto, D. N. Al Husaeni, D. F. Al Husaeni
     4414 - 4422
Production and performance of okara/sago and okara/banana peel organic fertilizers in plantation
     J. C. H. Lai, K. H. Masrun, N. Madin, R. H. Baini, N. A. S. Abdul Samat
     4423 - 4437
Accounting information system adoption among Indonesian MSMES: A conceptual model for cloud computing
     F. M. Hamundu, M. H. Husin, A. S. Baharudin
     4438 - 4451
Estimated use of electrical load using regression analysis and adaptive neuro fuzzy inference system
     M. Khairudin, U. Nursusanto, K. I. Ismara, F. Arifin, D. B. Fahrurrozi, A. Yahya, A. S. Prabuwono, Z. Mohamed
     4452 - 4467
GO-COCOSERV as a coral reef conservation service based on characteristics of breeding locations
     A. S. Sitanggang, N. Hasti, R. F. Syafariani
     4468 - 4480
Improvement of non-linear power amplifier performance using Doherty technique
     A. A. Ismael, A. T. Younis, E. A. Abdo, S. H. Hussein
     4481 - 4493
The effect of electrodes area on the resistive switching Au / Si / Cu2S / CuO / Cu based memory
     Z. S. Mohammed
     4494- 4504
PID-PSO controller for PV panel system identification models on ANFIS and NN-NARX system
     F. A. Lafta, I. A. Hasan, M. J. Mohammed
     4505 - 4517
Assessment of the water quality and environmental management in Jangari reservoir watershed using selected physical, chemical, and biological parameters
      S. Luckyardi, T. V. L. Gaol, D. Oktafiani
     4518 - 4529
Development of artificial intelligence techniques in Saudi Arabia: The impact on covid-19 pandemic. literature review
     N. B. Al- Jehani, Z. A. Hawsawi, N. Radwan, M. Farouk
     4530 - 4547
The influence of argemone mexicana bio fuel added with titanium dioxide (TiO2) nanoparticles on the operating behavior of direct injection (di) compression ignition engine
     V. V.  Bhosale, W. S. Rathod
     4548 - 4559
Numerical study of CO emission reaction in CO2 diluted biogas and oxy-fuel premixed combustion
     H. Wicaksono, S. H. Susilo, B. Pranoto
     4560 - 4572
Perceived neighborhood walkability and walking for particular purposes among motorcyclists in Bandung city, Indonesia
     R. Syafriharti, B. Kombaitan, I. Syabri, P. Dirgahayani
     4573 - 4581
Personal thermal comfort prediction based on EEG signal
     R. Pratama, Faridah, B. Achmad, D. D. Avoressi, M. M. Waruwu, Y. F. Luckyarno
     4582 - 4599
Application of coagulation and electro-coagulation methods for removal of phosphate from wastewater
     N. A. Jasim, T. K. Hussein
     4600 - 4611
Role of 'e' in engineering applications
     K. Diwakar, C. Senthilpari, V. V. Rajasegharan, S. I. Ebenezer
     4612 - 4625
Traditional timber house performance in earthquake zone case study: Traditional village of Panjalin, West Java, Indonesia
     A. H. Siregar
     4626 - 4637
Application of a one-dimensional steady state model for simulation the water quality in Tigris River
     G. Y. Al Kindi, T. A. Hussain, A. N. Abed
     4638 - 4649
Authentication of java preanger steamed green tea by using ultraviolet spectroscopy and discriminant analysis method
     D. Suhandy, M. Yulia
     4650 - 4665
Energy efficient scheme for wireless sensor networks based on ContikiMAC protocol
     O. Ali, M. K. Ishak
     4666 - 4686
Effect of slag cement on concrete resistance against combined exposure to freeze-thaw and chloride ingress
     J. Zhao, E. D. Shumuye, Z. Wang,
     4687 - 4706
Grey-level image compression using 1-D polynomial and hybrid encoding techniques
     G. K. Al-Khafaji, L. E. Gorrge
     4707 - 4728
Proposed policies for shifting private vehicles users to public transportation by using logit model
     H. Al-Msari, A. E. Jehad, A. El-Shafie, S. B. Koting
     4729 - 4739
Optimized performance of time delay systems using modified smith predictor with PI-D controller
     S. M. Raafat, H. M. Jassim, L. A. M. Al-Chalabi
     4740 - 4765
Influence of growth parameters on the crop yield performance of hydroponic spinach (spinacia oleracea l.) using correlation and regression models
     P. Srivani, C. R. Y. Devi, S. H. Manjula
     4766 - 4778
Efficient mobile sink location placement by residual status in WSN to enhance the network lifetime
     A. A. K. Mohammad, A. K. Lodhi, A. Bari, M. A. Hussain
     4779 - 4790
Computational investigations on the performance and emissions characteristics of range extender spark ignition engine fueled with biogas applied for small electric vehicles
     Y. Putrasari, H. E. Putri, A. Dimyani, M. Pratama, Suherman, A. Nur, A. Praptijanto, W. B. Santoso
     4791 - 4807
Effect of storage period in hot weather on the properties of Portland cement
     A. J. Ibrahim, A. A. K. Sharba, H. D. Hussain
     4808 - 4816
Numerical study of cooling system for photovoltaic thermal collector
      M. F. Mohammed, H. A. Daud, N. S. Ekaab
     4817 - 4832
Finite element dynamic analysis of thin shells subjected to arbitrary loading
     A. A. Mansor, M. M. Hamid, N. S. Abbas
     4833 - 4852
A new system for converting voices of Persian letters into gesture
     S. K. Ali, Z. M. Aydam, W. K. Mutlag
     4853 - 4863
Improving the efficiency of speculative execution strategy in Hadoop using amazon elasticache for redis
     C. Kavitha, X. Anita, Shirley S.
     4864 - 4878
Experimental and analytical study of strengthened reinforced reactive powder concrete edge beams under combined loading
     A. A. Alfeehan, R. H. Alkerwei
     4879 - 4895
Evaluating the effect of lesion segmentation on the detection of skin cancer by pre-trained CNN models
     J. Bektaş, Y. Bektaş, E. E. Kangal
     4896 - 4909
3DOF robot arm control using fuzzy neural petri net (FNPN) controller
     W. H. Zayer, A.-J. F. Ali, Z. A. Maeedi
     4910 - 4919
Improvising data security measures using Rajan transform
     A. Vishnoi, D. Sharma, M. Prateek
     4920 - 4932
Development of gear shift patterns for six-speed automatic transmission vehicle
     T. Y. Chian, N. Z. Abu Bakar, H. M. Hussain
     4933 - 4957
Hybrid wireless sensors networks for tracking animals
     R. H. Hussain, S. R. Saleh
     4958 - 4974
Numerical analysis on the behavior of polygonal CFST composite columns under axial loading using finite element
     S. J. Hilo, S. M. Sabih, M. M. Abdulrazzaq
     4975 - 4999
Variation of weather elements during different seasons in Iraq
     I. H. Abdulkareem, H. A. Nemah
     5000 - 5012
Energy efficiency in cloud data center through unsupervised rule-based VM selection methods
     G. F. Shidik, A. Nugraha, P. N. Andono, E. Noersasongko, E. J. Kusuma
     5013 - 5026
Improvement of expansive soil by rice husk ash
     K. Y. H. Al-Soudany
     5027 - 5043
Risk analysis of ship collision in Indonesian water using house of risk
     S. Yahya, H. Supomo, S. Nugroho
     5044 - 5059
A tabu-clock combinatorial keystream generator for wireless communication
     A. Y. Yousuf, T. S. Atia
     5060 - 5070
Design and analytical study for influence of thermal insulation on Ethiopian electric Injera baking pan (mitad)
     F. T. Teferi, K. P. Kolhe
     5071 - 5086
Performance optimisation within device layer of IOT networks
    K. V. Sowmya, J. K. R Sastry
     5087 - 5109